ASUS ThunderboltEX 3 Thunderbolt/Usb Adapter Expansion Card

Asus Thunderboltex 3
Designed for select Asus motherboards with a TB header, this add-on card brings advanced Thunderbolt 3 connectivity, which integrates 40 Gbps Thunderbolt 3, reversible USB 3.1 Type-C and DisplayPort 1.2 into a single port. The Thunderbolt 3 also supports daisy-chain of multiple devices. If a monitor is present in the daisy chain, it's needed to connect the included cable to the miniDP input on the card, and to the DisplayPort output of the system's integrated or discrete graphics. This card offers USB Power Delivery of up to 36W through the Thunderbolt port, and comes with a USB-A 10 Gbps port. With PCIe 3.0 x4 host interface, this is a quick-to-fit expansion card into x16, x8 and x4 slots.
Faster
At a breathtaking 40Gbps you'll experience faster transfers, with four times (4X) the data speeds of any other cable and twice (2X) the video bandwidth.
More connectivity
By integrating reversible USB 3.1 Type-C and DisplayPort 1.2, the ThunderboltEX 3 gears you up for compatibility with the latest high-speed devices, from super-fast external drives to 4K UHD displays. ThunderboltEX 3 supports the USB Power Delivery specification for fast, high-power charging of up to 36W, and you can even daisy-chain up to six devices from a single port — and our card even includes an additional USB 3.1 Type-A connector for total convenience and compatibility!
10-gigabit networking
When you fit ThunderboltEX 3 you'll also enjoy peer-to-peer networking at screaming 10Gbps speeds, enabling you to transfer files in the blink of an eye, perform easy PC migrations, or set up small workgroups with shared storage!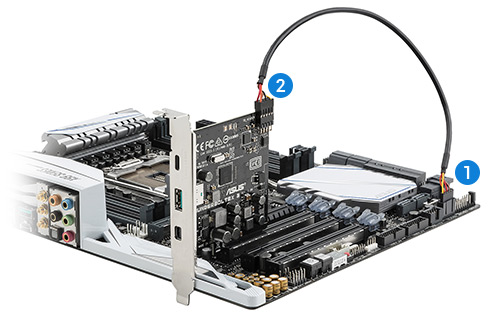 Upgrade your motherboard in just three simple steps!
1. Easy upgrade: Slide ASUS ThunderboltEX 3 into PCI-Express 3.0 x4 slot
2. Compatible with ASUS motherboards: Connect the card to the onboard Thunderbolt header with the supplied system-link cable
3. DisplayPort 1.2 support: Attach the supplied DisplayPort cable to the card and the onboard DisplayPort connector
Turn on your computer, connect your Thunderbolt devices and enjoy the incredible speed!