Precise Details to Create Perfection
Design professionals never compromise on details. BenQ Designer Monitors deliver absolute colour precision and ultra-detailed high resolution to craft every step, leading to brilliant work and turning design dreams into reality.
Stunning Colour and Resolution for Breathtaking Designs 2K QHD High Resolution 2K QHD (2560×1440) resolution offers extraordinary clarity of fine details and depth of subtle textures, optimised for visually intensive work in animation, visual effects, graphics and photos.


BenQ 25″ monitor nepal
Devoted to meet the latest professional colour standard, BenQ has developed AQCOLOR technology to uphold the concept: 'Accurate Reproduction'. BenQ has invited a colour expert to lead the team and also actively participated in ICC (International Colour Consortium) and ISO (International Standard Organisation) to establish colour-related standards and implementation.
Reference-Grade Colour Performance with 100% sRGB and Rec. 709
Covering 100% of sRGB and Rec. 709 colour spaces, PD2500Q's advanced IPS wide viewing angle technology minimises colour shift to inspire absolute design confidence. 100% sRGB colour gamut accuracy adheres to industry standards in digital production, while Rec. 709 reproduces accurate resolution, frame rate, colour gamut, gamma and white point performance in high-definition video work.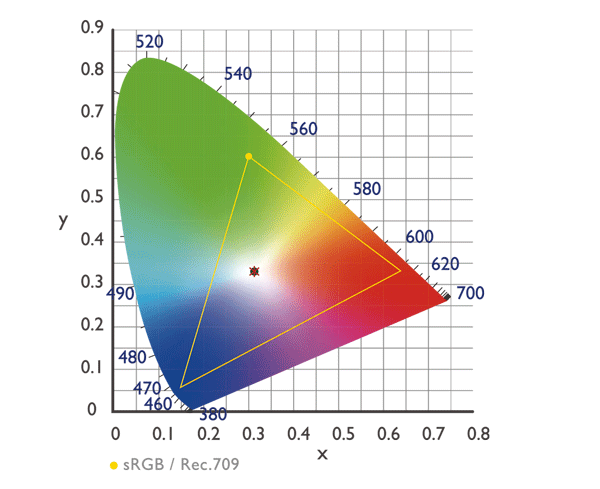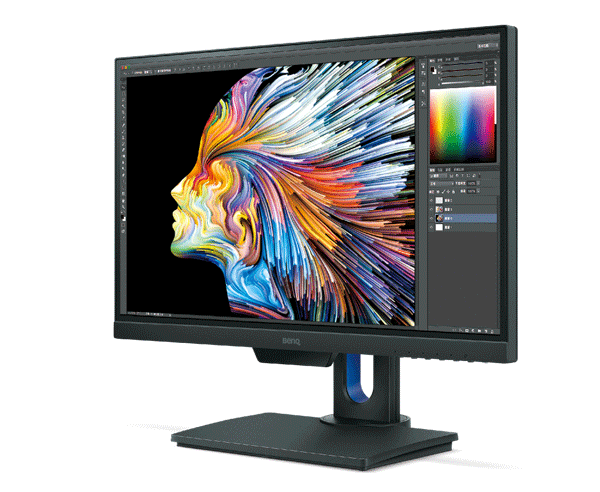 Professionally Factory-Calibrated for Exacting Colour Accuracy
Each PD2500Q display is individually factory-calibrated upon production to assure precise Delta-E and Gamma performance. Calibration results are validated against industry colour standards to deliver the truest and most representative view of original content.
*Calibration eliminates slight colour performance variations between individual panels of the same model. Therefore, the calibration data of each report will vary slightly from reports from other displays of the same model.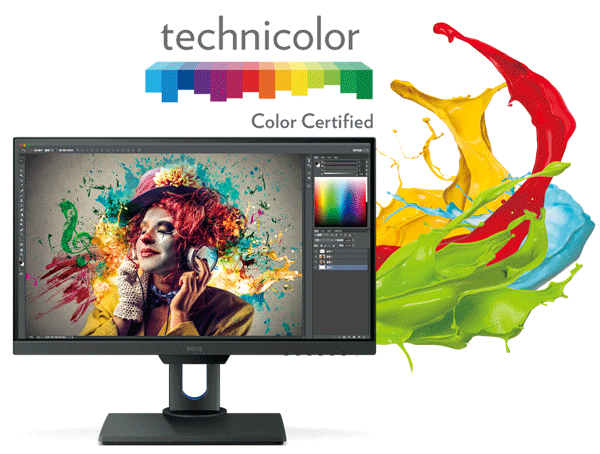 Technicolor Colour Certified
The Technicolor Colour Certified programme is reserved for devices that satisfy the Technicolor specifications to meet the strict standards for colour accuracy widely used in Hollywood and throughout the entertainment industries. All BenQ PD Series Designer Monitors are Technicolor Colour Certified, ensuring consistent and accurate colours for impressive performance in broadcast, film, animation and entertainment applications.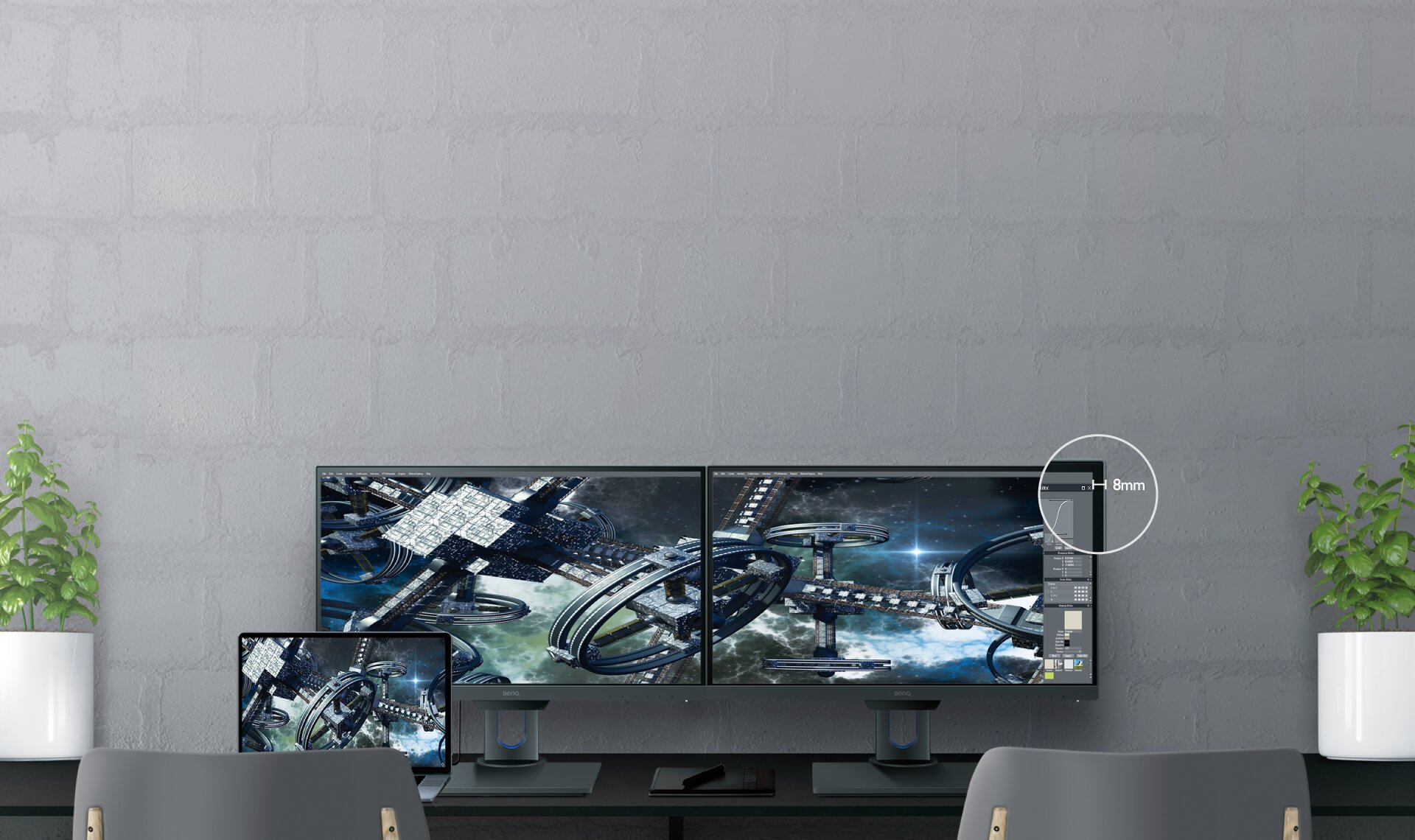 Smart Efficiency and Productivity Enhancers
Edge-to-Edge Design and Universal Connectivity
Eliminating bulky obstructions with a 25" edge-to-edge panel and ultra slim bezels, PD2500Q maximises your workspace for seamless dual-monitor usage via DisplayPort daisy chaining with multi-stream transport (MST) support to extend your notebook screen across several displays. Multiple HDMI, DisplayPort, mini DisplayPort, USB 3.1 Gen1, headphone and audio ports make PD2500Q ideal for any Windows, Mac or mobile source devices.

Specialised Designer Modes
CAD/CAM Mode
Offering superior contrast for lines and shapes in technical illustrations, CAD/CAM mode accentuates the finest details to produce incredible display performance in Pro/E, SOLIDWORKS, AutoCAD, CATIA or other design software.
*How to set up CAD/CAM mode
Adjusting image brightness and contrast for superb clarity and detail sharpness, Darkroom mode creates the optimal setting for work in darkened post-processing environments.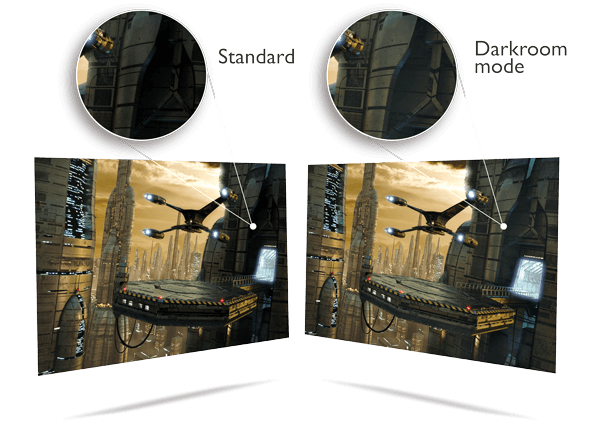 Animation Mode
Often problematic for designers working with intricate details in dark images, Animation mode enhances the brightness of dark areas without overexposing bright regions. Animation mode provides 10 levels of display brightness to bring out every subtlety clearly in any ambient lighting.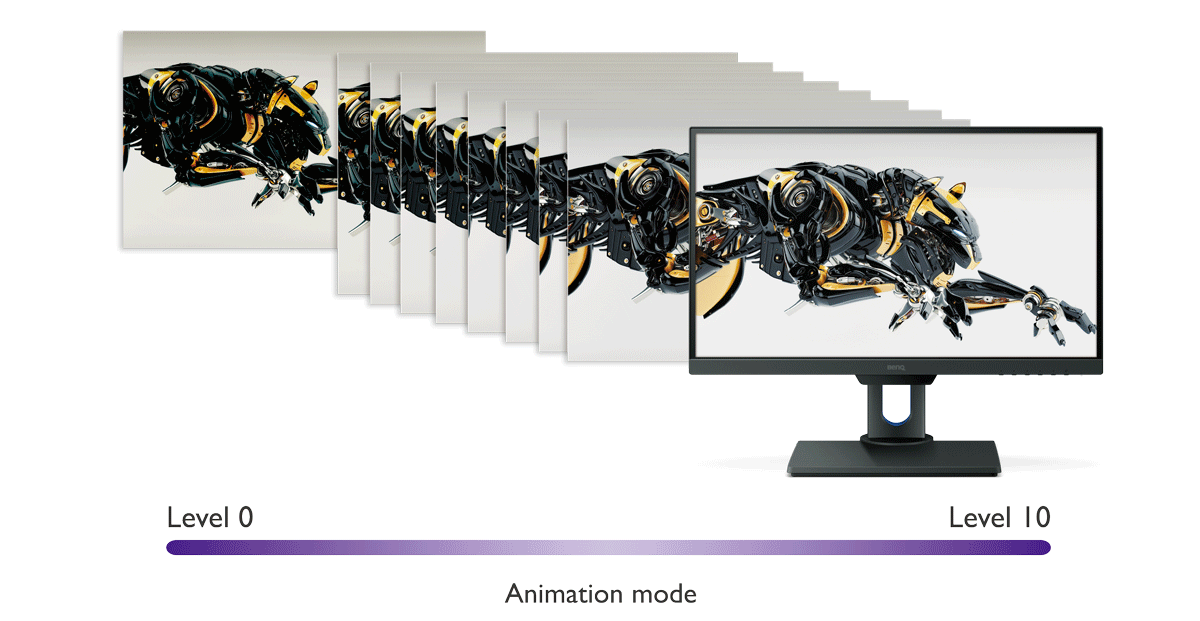 Simply Intuitive Design for Comfortable Creative Processes
Anti-Glare Display to Minimise Distracting Reflections
PD2500Q's anti-glare matte finish keeps distracting reflections to a minimum for improved efficiency in squint-free comfort.
Ergonomic Design for Tailored Workspaces
An extensive range of height, tilt, pivot, stroke and swivel adjustments customise your workstation for the perfect fit. When used in portrait mode, PD2500Q's smart screen orientation sensor auto-rotates source content to display images in full context.
*Display Pilot auto-rotation software requires Windows OS.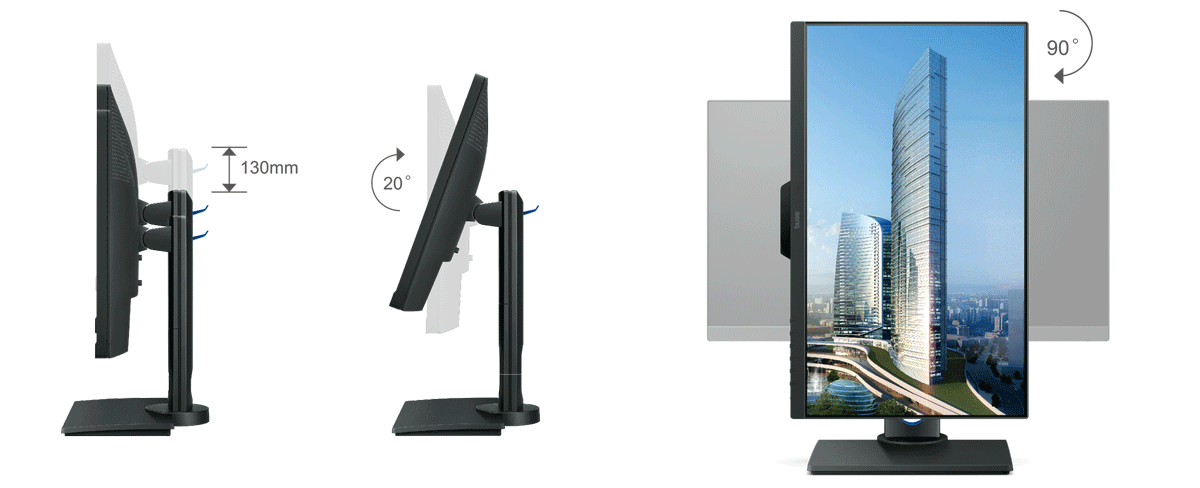 Industry-Leading Eye-Care Technology
BenQ exclusive eye-care technologies reduce eye fatigue for user comfort, enhanced productivity and workplace safety during extended use.