All of the MSI Upcoming Latest Laptops Mentioned Below will be Available for Purchase in Aliteq Shop very soon. | We'll announce it when latest laptops are available, so stick with us & stay tuned.
MSI GS66 Stealth
MSI is keen to point out that it's in a great position to get its next-gen gaming laptops onto shelves quicker than most. I've already taken a look at the engineering sample of the GS66 Stealth, and came away impressed by its sleek looks as well as how quiet it is. That was an preview build though, so I'm keen to see if MSI can keep the noise down when trying to cool an RTX 2080 Super.
As ever there are a wide range of GS66s on the way, with a price range to match—from an RTX 2060 Max-Q alongside an i7 10750H for $1,599 (around Rs.2,20,000), all the way up to the RTX 2080 SuperMax-Q operating alongside the Core i9 10980HK for $2,999 (around Rs.3,90,000). That top model comes with 32GB of DDR4-2666 RAM, a 1TB NVMe drive, and a 300Hz 3ms 1080p display. There are a few different spins in between, though you'll hit north of $2,400 (around Rs.3,15,000) very easily, so this may not be a machine for budget gamers.
The professional vibe of the machine may have you thinking that this is one for business types, especially given that it's a thin and light system. But the fact MSI has worked with Steelseries for the keyboard can give the game away a little, especially if you turn on the per-key RGB lighting. Killer makes an appearance on the networking side as well, with its Wi-Fi 6 supporting AX1650i. This machine is potentially a bit of a goer too, packing a 99.9Whr battery into it's slim form.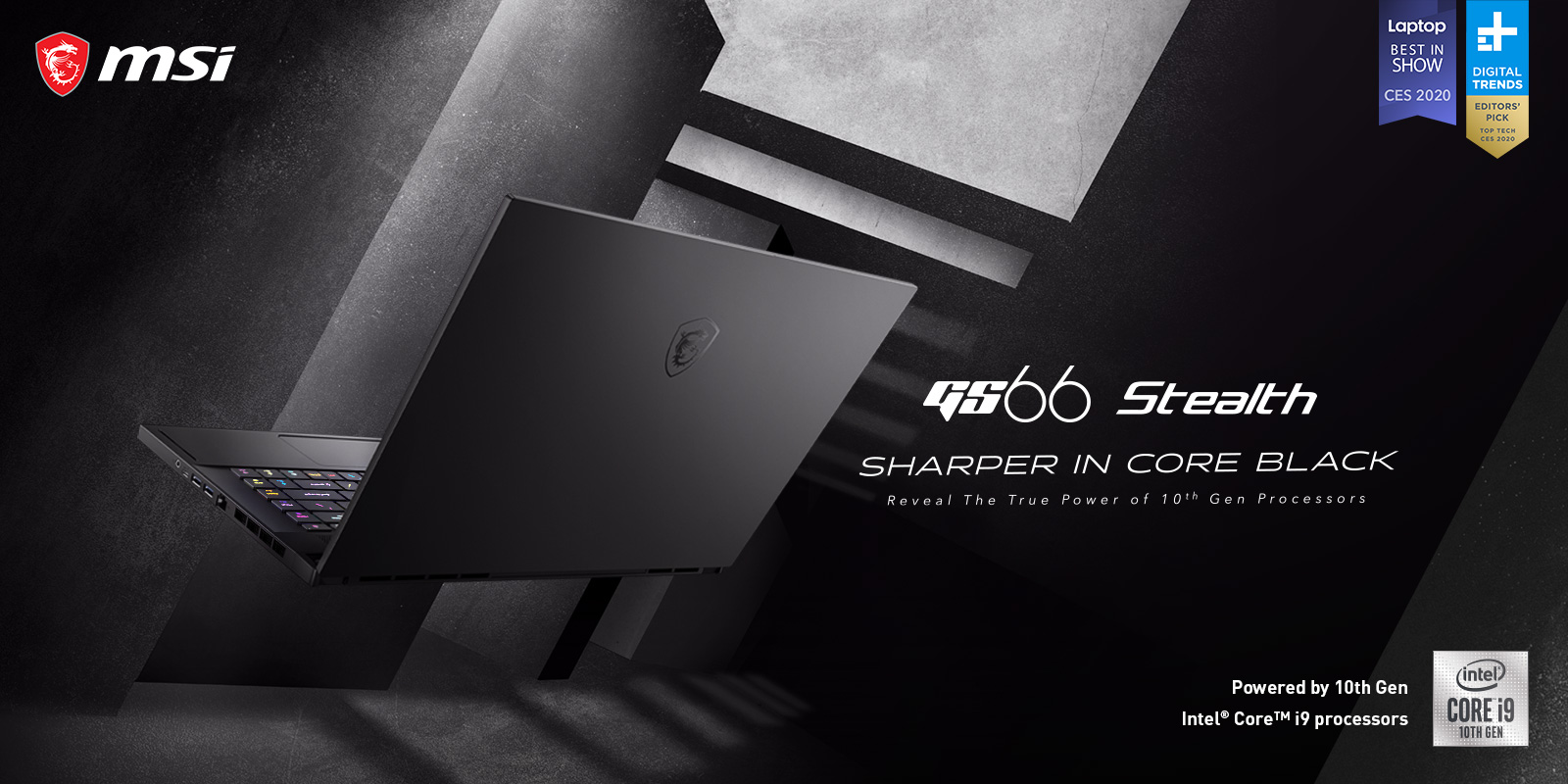 Price of MSI GS66 Stealth in nepal
Price: Starting from around Rs.2,20,000 ( International Price: $1,599| £1,699)
Availability in Nepal: Soon ( by end of May)
MSI Official Site's GS66 Stealth Laptop Link —> Click HERE
---
MSI GE66 Raider
The MSI GE66 Raider meanwhile draws more from the traditional gaming laptop school of design, with an RGB strip along the front to show off your gaming colors (whatever they may be) and a slightly bulkier look all round. It's not as thin or light as the GS66, but that does mean there's a bit more room for cooling, so it'll be interesting to see if that gives the Raider a slight edge when it comes to performance.
The GE66 Raider will still feature that 99.9Whr battery, so it should last just as long as the GS66 Stealth, and the pricing and core components aren't too different either—starting at $1,799, £1,799 (around Rs.2,40,000) for a Core i7 10750H and RTX 2070, all the way up to a i9 10980HK in tandem with a RTX 2080 Super for $2,999 (around Rs. 3,90,000). The GE66 Raider is expected to drop shortly after the GS66 in the May timeframe.
Price of MSI GE66 Raider in nepal
Price: Starting from around Rs.2,40,000 ( International Price: $1,799| £1,799)
Availability:
| | |
| --- | --- |
| In Nepal | Outside Nepal (International) |
| Soon ( by first weeks of July) | May 2020 |
MSI Official Site's GE66 Raider Laptop Link —> Click HERE