Components, CPU Fans & Cooling, Water Liquid Cooling
NZXT Kraken Z Series Z73 360mm AIO RGB CPU Liquid Cooler
CUSTOMIZE YOUR BATTLESTATION: With a bright, 2.36″ LCD screen capable of displaying 24-bit color, you can now completely customize the look of your CPU cooler
STAY IN CONTROL: CAM's elegant, user-friendly software makes you the master of your PC with simple-to-use, intuitive controls, you can manage your Kraken's performance and appearance with ease
INCREDIBLE PERFORMANCE: Featuring a chamfered intake and fluid dynamic bearings, they deliver silent operation, long-term reliability, and powerful cooling performance
SIMPLE INSTALLATION: With the fully programmable display, the pump can be rotated* to fit the needs of your motherboard without affecting the direction of the logo or image
COMPATIBLE SOCKET & CPU: Intel Socket LGA 1151, 1150, 1155, 1156, 1366, 2011, 2011-3, 2066 / AMD Socket AM4, TR4(bracket not included)
NZXT Kraken Z Series Z73 360mm AIO RGB CPU Liquid Cooler
KRAKEN Z SERIES
Powerful cooling meets ultimate personalization on the all-new Kraken Z Series liquid cooler. Aer P radiator fans work with the improved 7th generation Asetek pump to keep your CPU cool while staying extremely quiet. The 2.36″ LCD screen on the pump displays the content you choose, such as animated gifs and CAM system information. Intuitive CAM software makes it easy to fine-tune parameters, change what to display on the LCD screen, and even customize the display orientation* to fit your installation. Kraken Z Series is available in 360mm (Z73) and 280mm (Z63) in radiator size.
CUSTOMIZE YOUR BATTLESTATION
With a bright, 2.36″ LCD screen capable of displaying 24-bit color, you can now completely customize the look of your CPU cooler with custom gifs or CAM data.
STAY IN CONTROL
CAM's elegant, user-friendly software makes you the master of your PC. With simple-to-use, intuitive controls, you can manage your Kraken's performance and appearance with ease.
RGB READY
RGB channel easily integrates with any RGB accessory, including AER RGB 2 fans.
ENHANCED COOLING
All-new 7th gen Asetek pump provides improved cooling and 800RPM whisper-quiet performance.
INCREDIBLE PERFORMANCE
The included Aer P radiator fans are designed for liquid-cooling perfection. Featuring a chamfered intake and fluid dynamic bearings, they deliver silent operation, long-term reliability, and powerful cooling performance.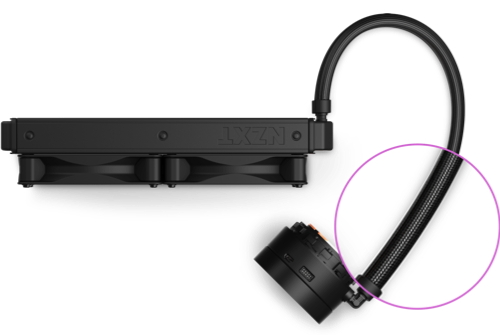 SIMPLE INSTALLATION
Fine nylon mesh sleeves strengthen the rubber tubing, providing durability and protection against mishandling. With the fully programmable display, the pump can be rotated* to fit the needs of your motherboard without affecting the direction of the logo or image.
* The display orientation can be adjusted within CAM from Default to a -90° orientation.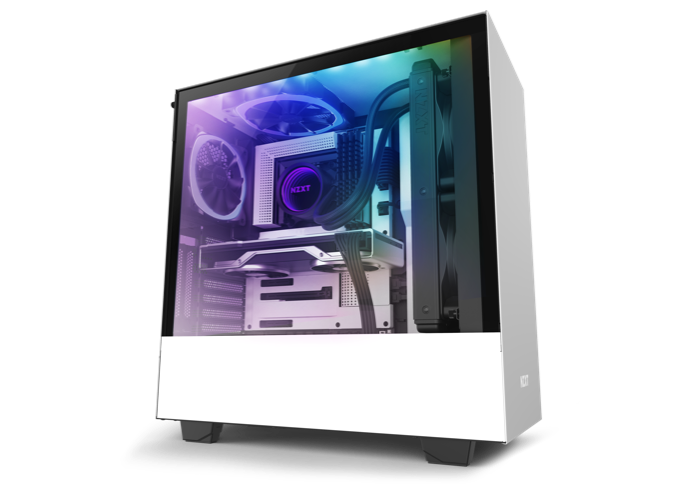 Model

| | |
| --- | --- |
| Brand | NZXT |
| Series | Kraken Z Series |
| Model | Z73 |
| Type  | Liquid Cooling System |
Block
Block Compatibility
Intel Socket LGA 2066 / 2011-3 / 2011 / 1366 / 1200 / 1156 / 1155 / 1151 / 1150
Intel Core i9 / Core i7 / Core i5 / Core i3 / Pentium / CeleronAMD Socket AM4 / sTRX4*, TR4*(*Threadripper bracket not included)
AMD Ryzen 7 / Ryzen 5 / Ryzen 3 / Ryzen 9 / Threadripper
Block Dim.
79.00 x 79 x 52 mm
Block Material 
Copper & Plastic
Radiator

| | |
| --- | --- |
| Radiator Dim. | 121 x 394 x 27mm |
| Radiator Material  | Aluminum |
Fan

| | |
| --- | --- |
| Fan Size | 3 Fan Slots (120mm) |
| Fan Dim. | 120 x 120 x 26mm |
| Bearing Type | Fluid Dynamic Bearing |
| Fan RPM | 500 – 2,000 + 300 RPM |
| Fan Air Flow | 18.28 – 73.11 CFM |
| Fan Noise | 21 – 36 dBA |
| Fan Connector | 4-pin PWM |
| Color | Black |
Tube

| | |
| --- | --- |
| Tube Dim. | Length: 400mm |
| Tube Material  | Ultra-low Evaporation Rubber with Nylon Braided Sleeve |
Features
Features
CUSTOMIZE YOUR BATTLESTATION: With a bright, 2.36″ LCD screen capable of displaying 24-bit color, you can now completely customize the look of your CPU cooler

STAY IN CONTROL: CAM's elegant, user-friendly software makes you the master of your PC with simple-to-use, intuitive controls, you can manage your Kraken's performance and appearance with ease

INCREDIBLE PERFORMANCE: Featuring a chamfered intake and fluid dynamic bearings, they deliver silent operation, long-term reliability, and powerful cooling performance

SIMPLE INSTALLATION: With the fully programmable display, the pump can be rotated* to fit the needs of your motherboard without affecting the direction of the logo or image

COMPATIBLE SOCKET & CPU: Intel Socket LGA 1151, 1150, 1155, 1156, 1366, 2011, 2011-3, 2066 / AMD Socket AM4, TR4(bracket not included)
Additional Information

| | |
| --- | --- |
| Date First Available | February 05, 2020 |